W6 Series – Linear Robot
Light but Strong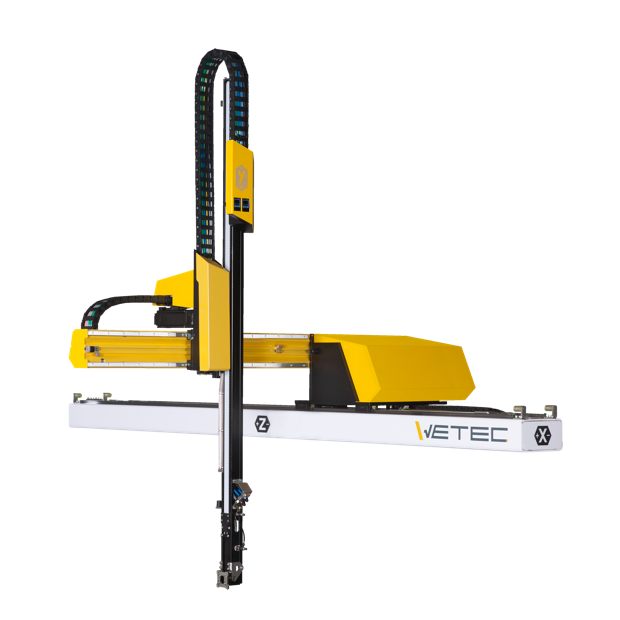 Flexible
Modularized design for a wide range of applications.
Standard Euromap interface for perfect integration with any injection moulding machine.
Telescopic vertical arm or single stage on request.
Single vertical arm for standard workflow or double for three plate mould.
Custom gripper designs on request.
External I/O modules for peripheral equipment.
Efficient
All three axes are equipped with powerful servo drivers and precision linear guides.
Lightweight design for energy efficiency and vibration control.
Stability
Traverse beam is constructed with steel which provides high rigidity.
Compact
Integrated control cabinet is mounted behind horizontal axis which saves valuable space in the factory.
Very simple structure for easy maintenance.
| 型號 | 橫移行程 - Z軸(mm) | 垂直行程 - Y軸(mm) | 前後行程 - X軸(mm) | 前後最遠可達位置 | 荷重(含零件+治具) (kg) | 適用射出機噸數(t) |
| --- | --- | --- | --- | --- | --- | --- |
| W6306 | 900 | 600 | 420 | 526 | 6 | 30 - 100 |
| W6309 | 1500 | 900 | 660 | 766 | 6 | 150 - 300 |
| W6312 | 1800 | 1200 | 720 | 826 | 6 | 250 - 350 |
| W6209 | 1500 | 900 | X: 490, X1: 300 | X: 785, X1: 500 | 6 | 150 - 300 |
| W6212 | 1800 | 1200 | X: 550, X1: 360 | X: 845, X1: 560 | 6 | 250 - 350 |
D: Telescopic vertical arm
S: Single vertical arm